Welcome to Mineral Treasure!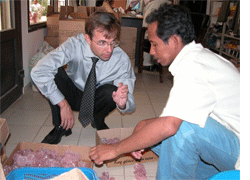 Mineral Treasure is a company that mines, cuts, collects and sells precious and semiprecious stones from Madagascar. We are a group of passionate and experienced professionals who live and work on Madagascar.
The company was created in 1995 by Vadim Fedder, recognized professional in the colored gemstone business. Since then Vadim has travelled all over Madagascar, learned local people's mentality, culture and traditions. He collected information about all gemstones findings and locations, built relations with tribal leaders.
Now Mineral Treasure has stone mining rights to mine almost any kind of stone on Madagascar. The company owns lands and mining permissions in Ambatundrasaca, Andilamena, Ilakaka, Tulear, Antsirabe, Maevatanana - the richest gemstone regions on the island.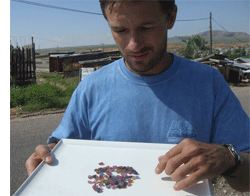 Mineral Treasure has a large storage of rough minerals in the capital Antananarivo. There the company collects stock of stones from North and East of Madagascar. Another company's storage in Tulear collects the stock from the South and West of the island. Mineral Treasure is the biggest wholesale exporter of high quality rough minerals from Madagascar.
The company also deals with polished and cut gemstones. Mineral Treasure Gallery in downtown Antananarivo is the biggest gallery of polished minerals, crystals and cut precious stones on the island. Whether our gems are cut and polished by our skilled lapidaries or by other best local craftsmen, you can be sure the gemstone you buy from us will be an outstanding quality and value.
Mineral Treasure is a wholesale company which means it sells most of its products in large quantities and lots. The company also has a stock of gemstones in the US to be sold as individual pieces.
We look for long term relationships with our customers and guarantee the quality of our products.